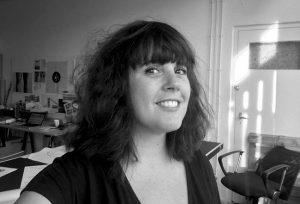 Anna Moreno (Barcelona, 1984) is an artist, researcher and educator. She lives in The Hague (NL) since 2012. She has exhibited widely nationally and internationally. From 2013 until 2018, Moreno developed the Artistic Research program at the Royal Academy of Art in The Hague. She collaborated with local institutions such as Stroom Den Haag, 1646 Project Space and the Gemeente Museum for that program.
Her solo shows include: Billennium, Catalonia's Architects Association (COAC), Barcelona, 2018; D'Ahir, Blueproject Foundation, Barcelona, 2016; The Whole World Was Singing, (HIAP, Helsinki, 2016) and An Awkward Game (1646, The Hague, 2015). Recent group shows include: Fingers Crossed, curated by Blanca de la Torre and Sue Spaid (ADNPlatform Barcelona, 2020): We Are As Gods…, curated by Lennard Dost (Nieuwe Vide, Haarlem, 2018); Beehave, curated by Martina Millá (Joan Miró Foundation, Barcelona, 2018) and CAPITALOCEAN, curated by Sara Pape (W139, Amsterdam, 2016). She lectured at symposia like Visual Activism (SFMOMA, San Francisco, 2014) and United We Organize (Stroom Den Haag, The Hague, 2013). Her residencies include: Jan Van Eyck Academie (Maastricht, 2020); HIAP (Helsinki, 2016); Artistas en residencia (CA2M / La Casa Encendida, Madrid, 2017); SAS Geumcheon (Seoul, 2012) and Atelierhaus Salzamt (Linz, 2011).
Moreno is currently working on The Hague Trilogy, a trilogy of movies conceived and filmed in The Hague and supported by Stroom Den Haag. She will soon be part of the 2020 Yinchuan Biennale (CN), curated by Huibhaye van der Werf, and Overview Effect, curated by Zoran Eric at MOCAB (Belgrade, SE, autumn 2020). Her essays are published in the Journal of Cittadellarte-Fondazione Pistoletto (IT) and the magazine of the Architects Association of Madrid (ES).
Website: www.annamoreno.net