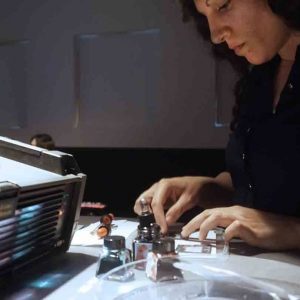 Yael Levy (1983 IL) is a composer, performer, visual artist and an educator.  Currently located in The Hague, Netherlands.
​In her works she explores new models which emerge from the combination of music composition, collective composition, visual art, performance-art and theater.
She studied composition in Israel with Dr. Hagar Kadima between 2007 and 2011 and completed a BA in music education and choir conducting at the Levinsky College of Education, Tel Aviv. Subsequently, she obtained a BA in composition, with Gilius van Bergeijk and Yannis Kyriakides and MA in music composition as well with Yannis Kyriakides and Justin Bennett at the Royal Conservatory in The Hague (2011-2016).
Since 2014 She took part in several residencies and performances abroad including Living Museum Project, and Interfaces residency for electronic music in Cyprus, Manifesta12 in Palermo Italy and Sound 59 – Contemporary Music Festival in Perm, Russia.
Her works have been performed by several ensembles including The Northern Consort, Nieuw Ensemble, Ensemble MAZE and Kluster5.
Levy is active in several creative groups, including Catchpenny Ensemble, which is located in The Hague and focuses on multimedia works and collective composition.
http://www.yael-levy.com/