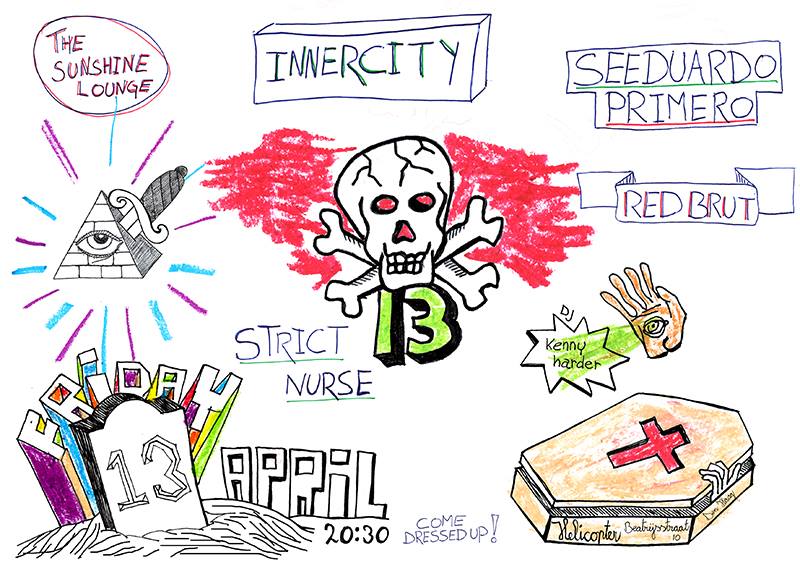 Friday the 13th murder dance party with 5 acts bringing the ruckus.
Red Brut, Innercity, The Sunshine Lounge, Seeduardo Primero and
Strict Nurse with blood splatter everywhere type stab stab hit and run sets.
Kenny Harder and friends on the decks.
As always quality beers and for this special occasion a shivering cocktail.
Friday 13 April, 20:30, €5
Helicopter, Beatrijsstraat 10, Den Haag
Wear a costume for maximum experience.
Red Brut
Ghost conjuration with tapes and an open mind.
Japanese haircut with a sensitivity of a 1000 years.
redbrut.com/
Innercity
Zen five piece of shaman Hans Dens multi dimensional lifework.
Murk soul control by group spirit hard jamz.
aguirrerecords.bandcamp.com/album/terrestreality
The Sunshine Lounge
Mountain on legs crushes with tenderness sounds.
Blood spilled and every drop hits harp strings of a hybrid Yeti devil.
soundcloud.com/thesunshinelounge
Seeduardo Primero
From the grave with the zombie strings of world age spirituals.
Stab in the heart where the diamond knife hits chords of harmony.
Strict Nurse
Scalpel cuts precision lines of pulse heartbeats pounding hiss.
Sweet voice speaks unrecognizable words as the darkness takes over.
vaticananalog.com/artists/strictnurse/