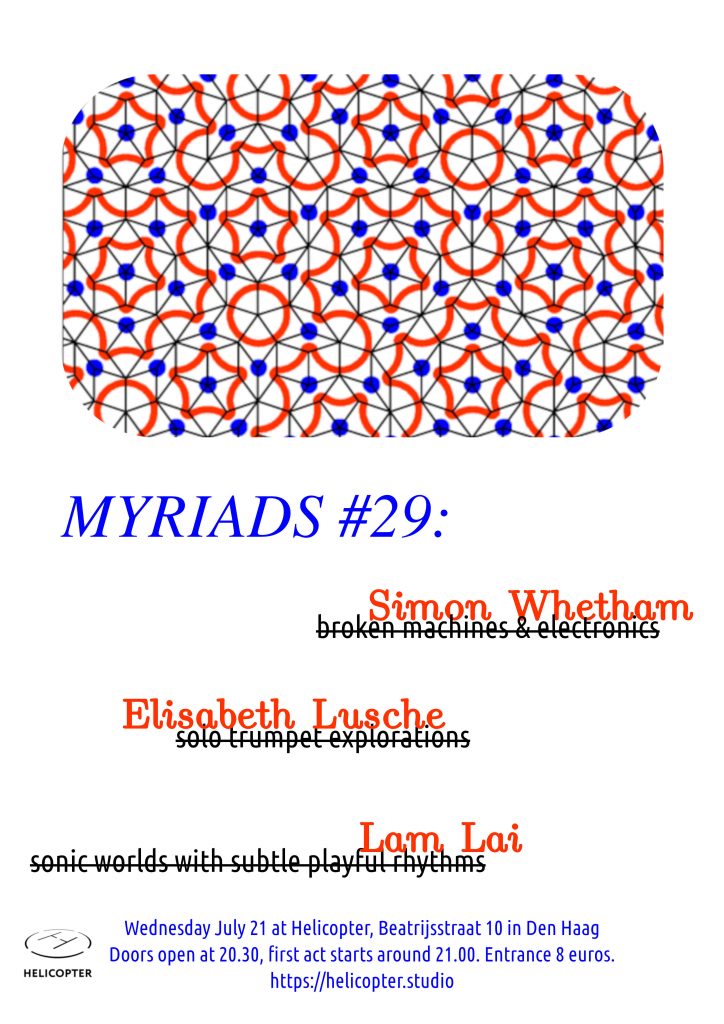 We're happy to present another episode in our MYRIADS concert series. A wonderful summer night with three outstanding artists: Simon Whetham visits us from France, and brings an arsenal of broken devices and electronics that he controls to make sound. Elisabeth Lusche shows the versatility of the trumpet as a solo instrument. And Lam Lai lets synthesizers introduce subtle rhythms into her ambient sound world. Read below for a bit more info on the artists.
Wednesday 21 July at Helicopter, Beatrijsstraat 10 in Den Haag
Doors open at 20:30, first act at 21:00
Entrance 8 euros. All proceeds go to the artists — keep the arts alive!
We strictly follow corona regulations, including distanced seating. All available seats are reserved by now — if you didn't make a reservation then we hope to see you next time!
* * *
Since 2005 Simon Whetham (UK) has developed a practice of working with sonic activity as a raw material for creation. He uses environmental sound, employing a variety of methods and techniques in order to obtain often unnoticed and obscured sonic phenomena. He presents his work Channeling, that he is currently developing during his residency at Witte Rook in Breda: numerous found and broken devices and electronics that purl, hiss and screech as they come back alive. https://www.simonwhetham.co.uk/
* * *
Elisabeth Lusche is a trumpet player specializing in the performance of new music. Originally from Auburn, Alabama, she now lives and freelances in The Hague. A versatile and innovative player, she elicits a wide range of hidden sounds from her instrument and brings them together with fearless delicacy. https://www.elisabethlusche.com/
* * *
Hong Kong born, NL based composer Lam Lai is active in instrumental music as well as multidisciplinary work where she combines electronic sounds and performative acts. Her works feature a strong link to daily life elements. In this performance, she introduces the subtlety of rhythm into her electronic ambient sonic world, exploring its playfulness through her performance on synthesizers. http://www.lamlai.com
* * *
MYRIADS is an irregular series of concerts focussing on the many facets of and approaches to experimentation, improvisation, musicality and virtuosity, irreverent of any borders