Helicopter X Radio Tonka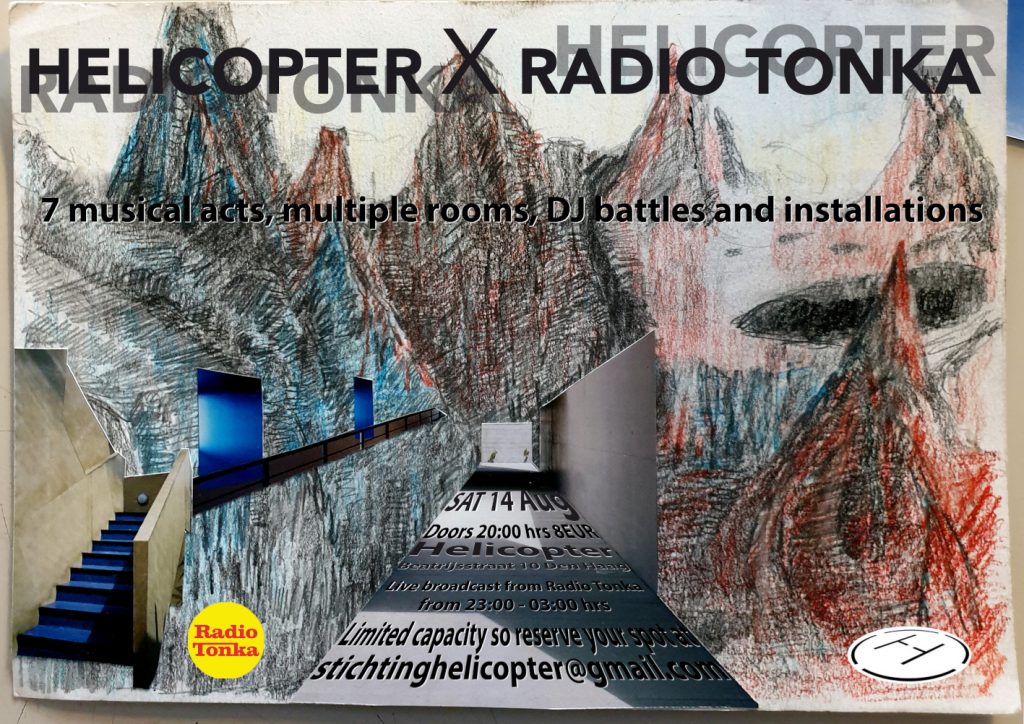 ///////// Radio Tonka on Location at Helicopter Studios! \\\\\\\\
The Tonka vehicle lands this time at our Helicopter platform. Join us for an evening with 7 musical acts, multiple rooms and installations. Expect:folklore noise-mess spatial minimal vocal dj battles unconventional synthesizers and transmitting deconstructed installationcore synth-mess computer techniques distorting tropical toxic of sci-fi and intense resonances set, tape experience of drum-mess concoction space explorations and melancholia reality under diy-spirit drunk machines fairground humpa

PROGRAM
◈ One River
One River is the improvising guitar player Arvind Ganga. Wide and expansive sparse tones slowly tumble over scratching, low rumbling, carefully dosed guitar noises for an intense minimalist experience.

◈ The Sunshine Lost
Is the collaborative sound attack unit of The Sunshine Lounge and Momentum Lost. Electronic device manipulators of earworm MK Ultra brainwash tone zone sessions.
https://thesunshinelounge.bandcamp.com/
https://momentumlost.bandcamp.com/


◈ Lam Lai
Lam Lai will perform a live soundscape for a script using pre-recorded tape and synthesisers. "Anatomy of a Date" is a short script written by Lam Lai and Ruta van Hoof in early 2020. It is a scene depicting the lyrical quality of being insistent, where the main character expressed her upbringing complex via talking about her favourite dress and the person she was waiting at the restaurant.
http://lamlai.com/

◈ Janneke van der Putten
Janneke van der Putten presents a performance about the limits and possibilities of the human voice in interaction with a portable sound system, called the Voice-Skin. Unconventional vocal techniques and spatial resonances are mixed with electro-acoustic sounds emitted through loudspeakers mounted on the textile surface of the Voice-Skin. The Voice-Skin is a performance intended to be experienced in the same physical space as where it is performed. Due to the movements of the vocalist, the direction of the sound changes constantly. In addition, the sound is enhanced by the shape of the Voice-Skin and by the architecture. The project is a collaboration with multiple composers, designers and the vocalist-performer.
For Helicopter, van der Putten will present the piece by Philemon Mukarno made for her voice and the Voice-Skin. Philemon Mukarno created the work 'Surat-Surat Perang' ('War Letters'). You can view its score via the following link:
https://issuu.com/philemonmukarno/docs/surat2perang1upload. You can also get an impression of the electroacoustic part (without the acoustic voice) via this link:
https://soundcloud.com/pmukarno/surat-surat-perang
'Voice-Skin #1' is a production for voice and electro-acoustics performed by Janneke van der Putten (NL), with compositions by Werner Durand (DE), Sajjra Xhrs Galarreta (PE) and Philemon Mukarno (NL). Portable sound system designed by Jesse Howard (US) & Arden Rzewnicki (US). Photography by Gabrielle Barros Martins (NL). Made possible by Prins Bernhard Cultuurfonds, Performing Arts Fund and Akademie Schloss Solitude. Produced by Stichting Idraola, Rotterdam, 2019-2021.
www.jannekevanderputten.nl
https://philemonmukarno.com/

◈ ∆D∆E∆W∆
DEW – synth-mess, drum-mess, noise-mess.
When machines get drunk, producing de-synchronized, de-quantized sequences controlling synths and echo's, with minimal attempt to get it all back in order and an appetite for destruction.https://alreves.org/releases/alr26

◈ The Undergroundlings
The Undergroundlings are making their first appearance, inviting you into their parallel world of obscure installationcore weirdness.

◈ Snackbar the Ambassador
Snackbar the Ambassador is a Moniker by trans-disciplinary artist Matthias König, based in The Hague (NL), combining music, performance- and visual arts.
His music is best described as a toxic concoction of deconstructed folklore, electronic beat and space explorations, otherworldly sounds, dub, cumbia, schlager, humpa and experimental electronics. Endearing, ugly, attractive, abrasive, compelling and taunting at the same time.
König also hosts a monthly radio show called "SNACKBAR FM" on local radio station Radio Tonka, The Hague.
In his radioshow Snackbar shares with us his personal record collection, that has a huge inspirational impact on his entire art-practice.https://escrec.bandcamp.com/album/iedere-dag-vakantie
https://www.youtube.com/watch?v=JqqK04x7Muo
https://www.mixcloud.com/snackbartheambassador/
https://escrec.bandcamp.com/album/iedere-dag-vakantie

◈ Slow Boy & Silver Ghosts
DJ battle by Tonka DJ's Slow Boy and Silver Ghosts tapes
https://www.slowboy.de/
https://www.discogs.com/label/172060-Silver-Ghosts

◈ TIANM
A video installation of Time is a New Material, an event that took place in teh summer of 2021 in helicopter. Four sound installations were the actors of this playground. They will tell you the story of the the earth through it's cracking, whirling and dripping.
What is the sound of the echo after human voices escape in the virtual world? A whole life in a single moment, suddenly stops and slowly backtracks in freeze frame.
What is this existence but light, sound and the continuous movement of a heart beating. Speeding up and slowing down, confusion as a thrilling manipulation of perception.
https://www.youtube.com/channel/UCfx9levvBpxsf854IjFJTuQ

◈ Heli x Tonka DJ Crew
After 01:00 DJ KipKillah and Storm op de Maan will finalise the event with their personal favorites. This is exclusively for everyone to experience on Den Haag fm 92.0 or at www.radiotonka.nl !! Until 03:00.

—————————-
> This event is live broadcasted at Radio Tonka from 23:00 – 03:0092 FM | www.radiotonka.org
—————————–
Beatrijsstraat 10 The Hague (entrance through the blue gate)
Doors: 20:00
Entrance: 8EUR!!! Limited capacity so reserve your spot by sending us an email at stichtinghelicopter@gmail.com